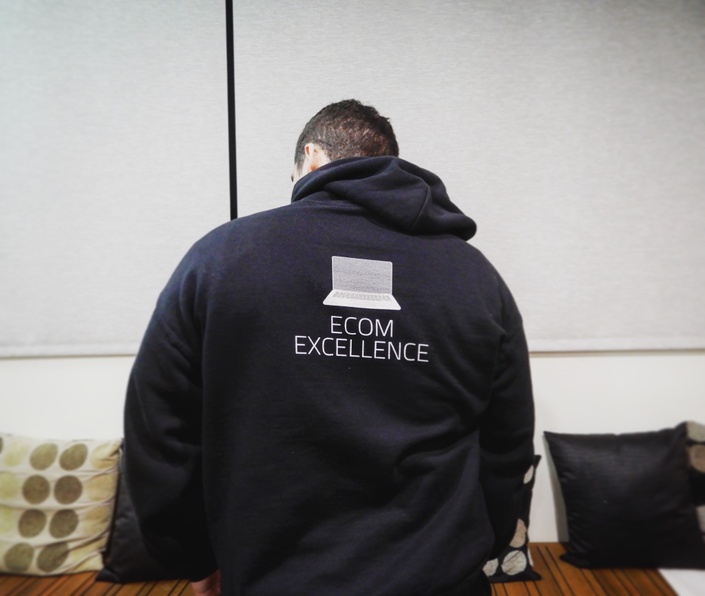 Amazon FBA Australia Course
Join 400+ Aussie students in the #1 Amazon FBA Course In Australia. Teaching you step-by-step how to create a profitable and scaleable online business.
ENROLL NOW (2021 SALE)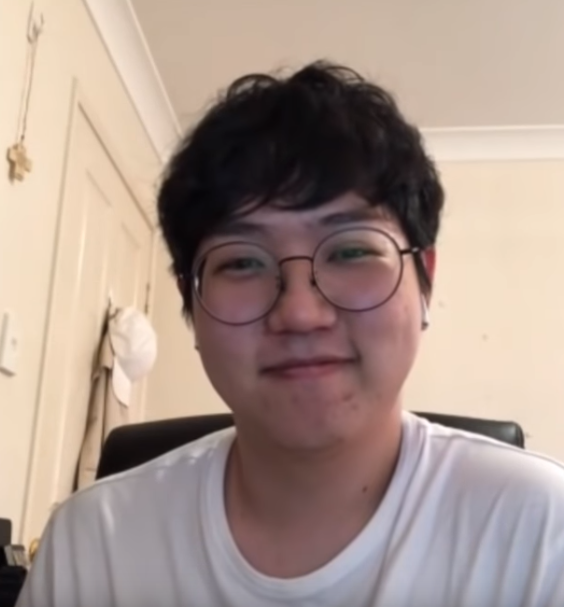 "Jack's course equips you with all the necessary tools to kick-start your first eCommerce business. It is very beginner-friendly so if you have no idea where to start, look no further as the course is both highly informative and reasonably priced for its diverse content that is updated constantly. The course also comes with a massive Facebook group that will help you through to your whole eComm journey. You will receive all the support you need from all the sellers who have done it all and you can ask all the beginner questions you want to any of us at anytime!"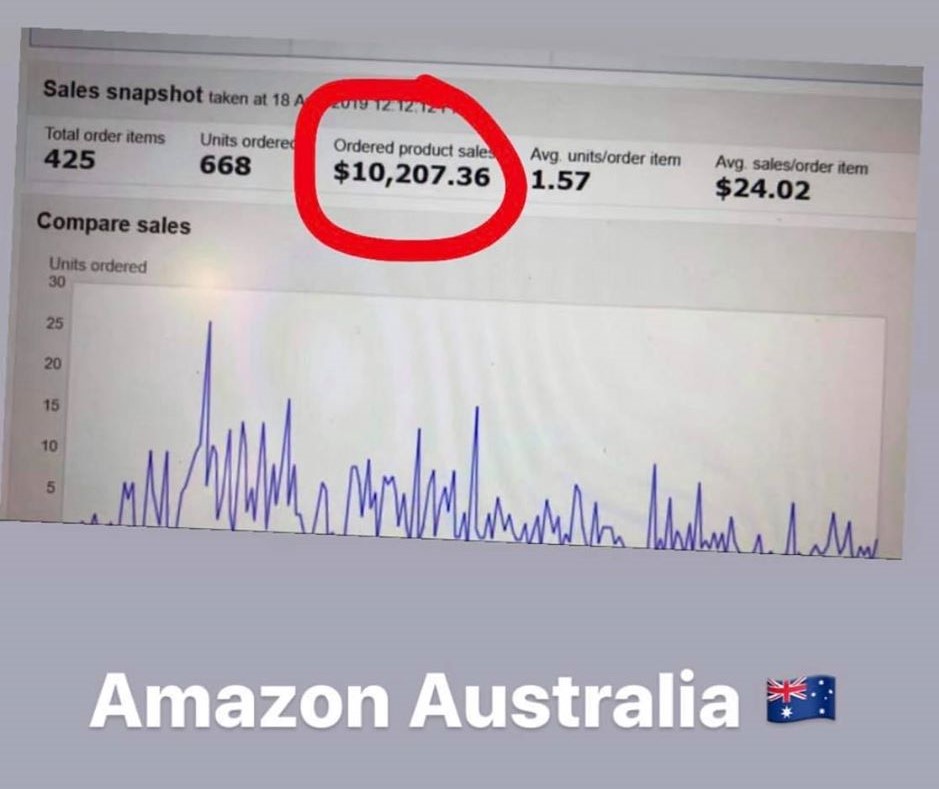 - Elbass, Student since June, 2018 - Now selling $5,000+/month, with multiple products on the Aussie market. He is now continuing to build and solidify his Amazon FBA store and brand right here in Australia.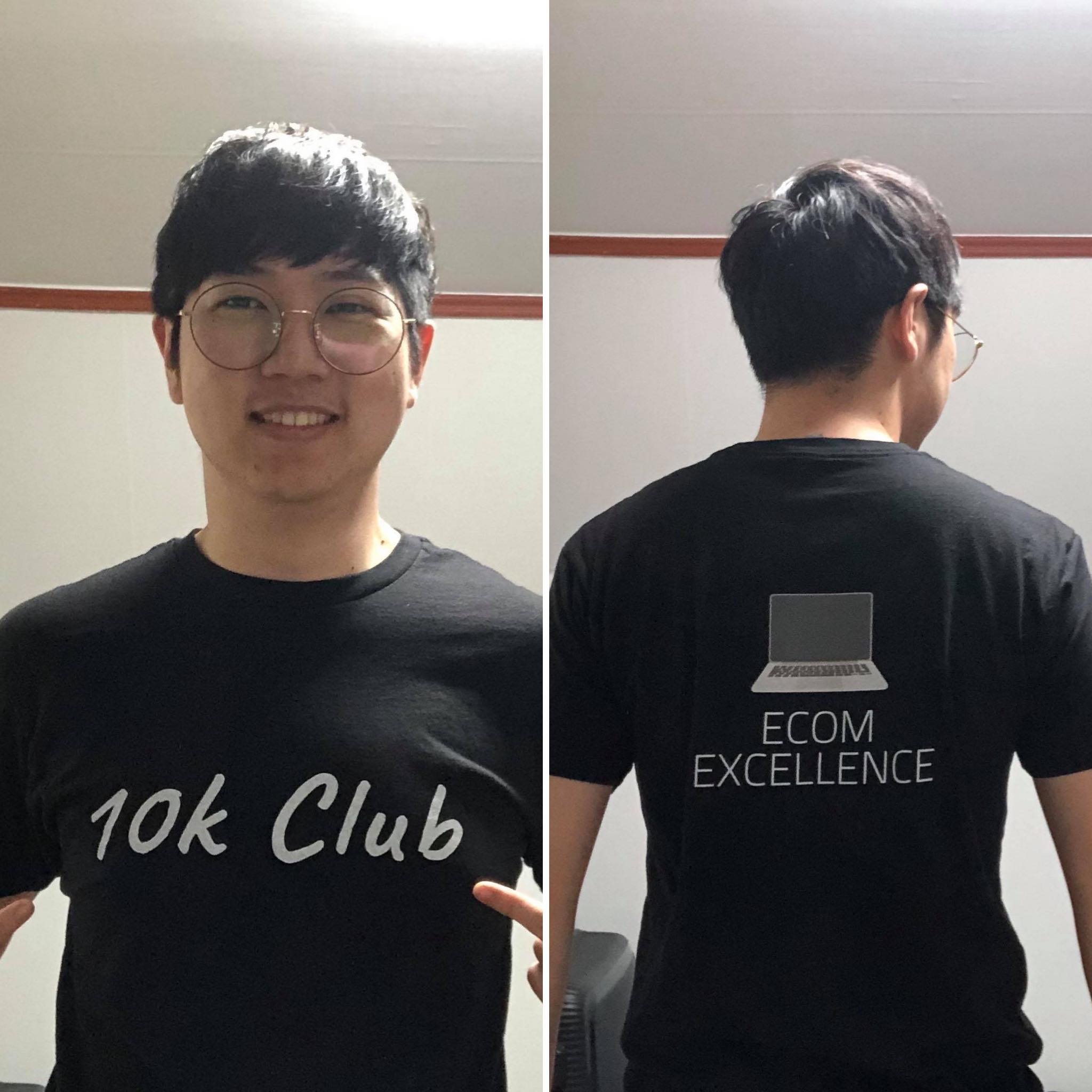 Elbass is now part of our renowned 10k Club, for easily smashing over $10,000 in sales in the Aussie market!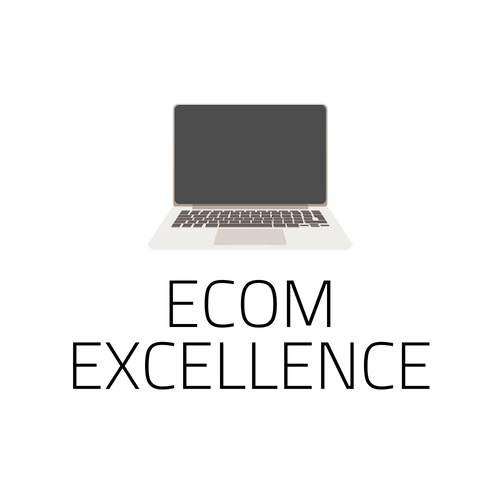 Athar - "Hi Jack, inventory received today... getting results within 4 hours"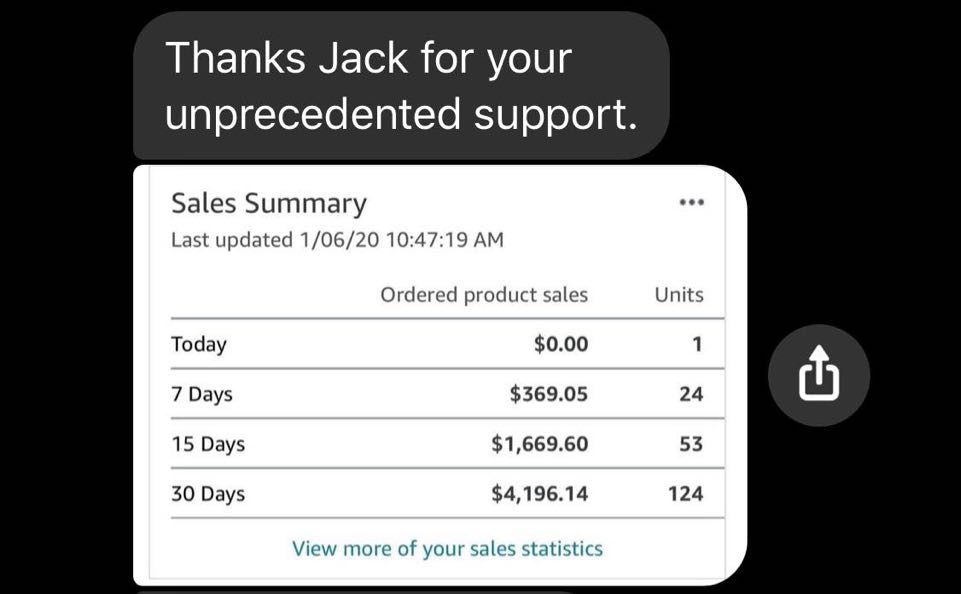 - Athar, Student since Apr, 2020 - Selling $4,000+ within his first month in the Aussie market, all with one product.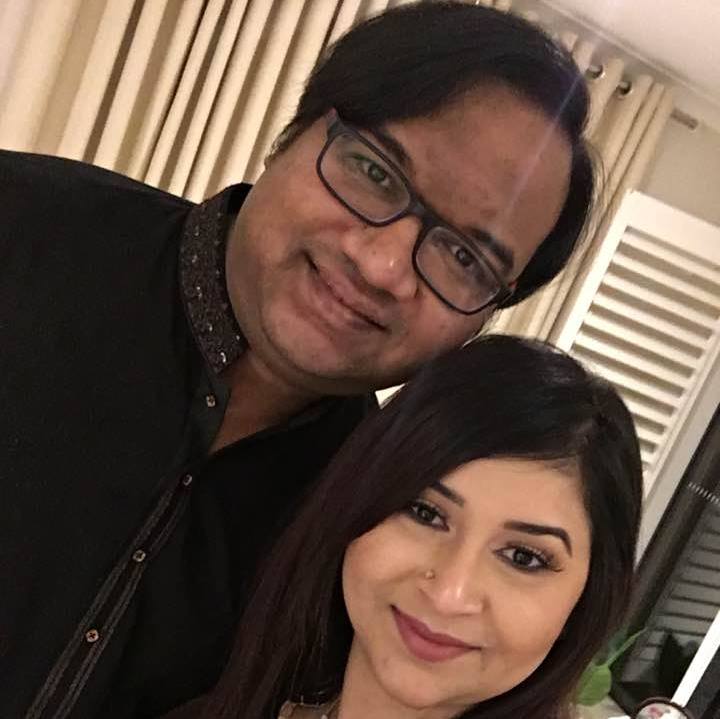 "I enrolled to Jack's course on Amazon FBA January this year because I wanted to achieve financial freedom and also to have the freedom to run a company of my own. Jack's course taught me the essentials of starting an Amazon FBA business (specially for Amz Aus) and gave me the confidence to try out the new world of ecommerce. But learning from the course is just half of it; Jack also provided support and guidance whenever I needed in this journey. Since I enrolled in Jack's course, I have started my company, done my product research and getting ready to launch my first product. I would recommend the course to people who need to understand the basics/essentials of Amazon FBA. But you also have to keep in mind you learn the details by actually doing it. Thankfully Jack has always been there when I needed that extra support."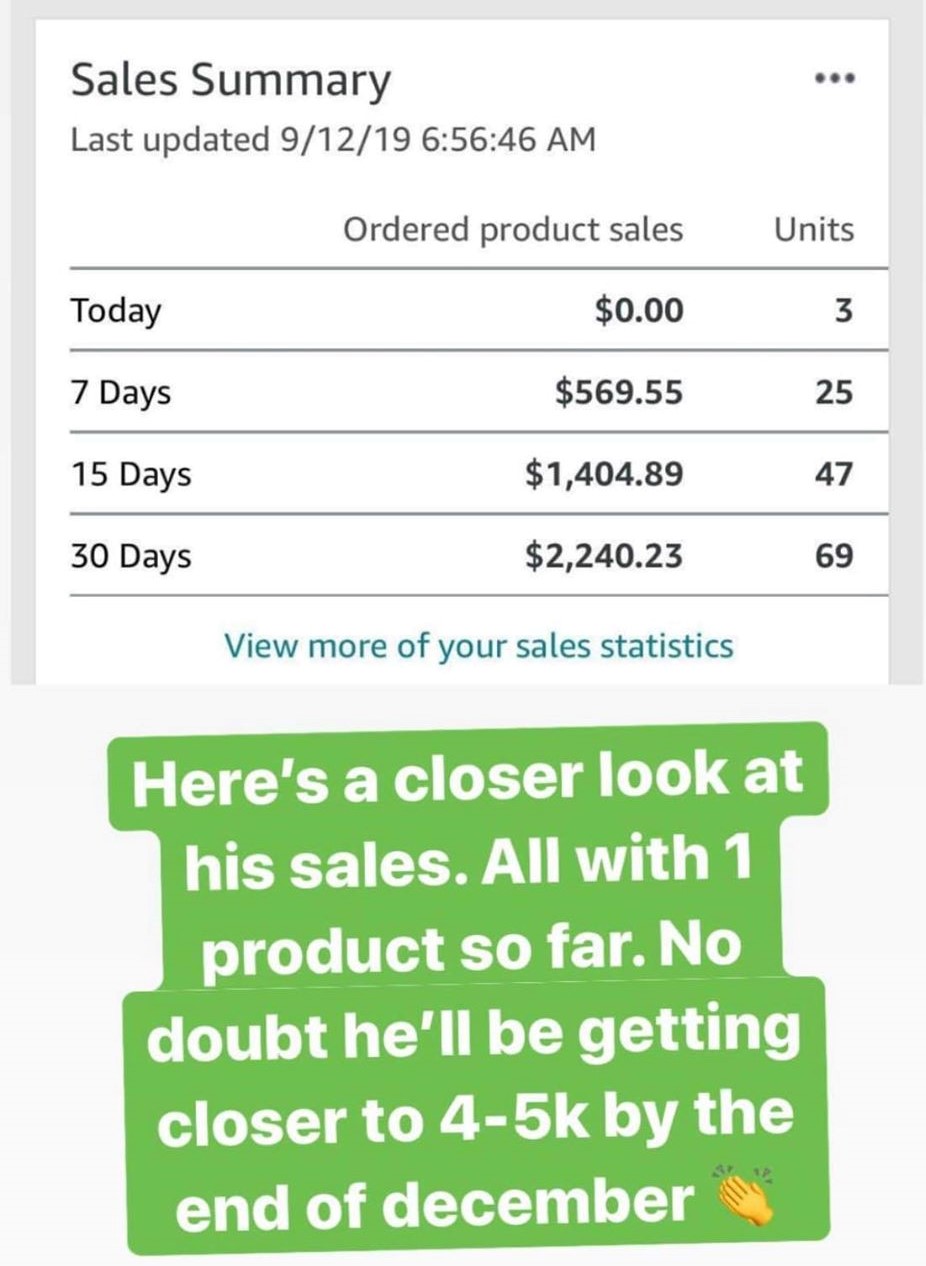 - Numair, Student since Jan, 2019 - Now selling up to $2-3000/month in the Aussie market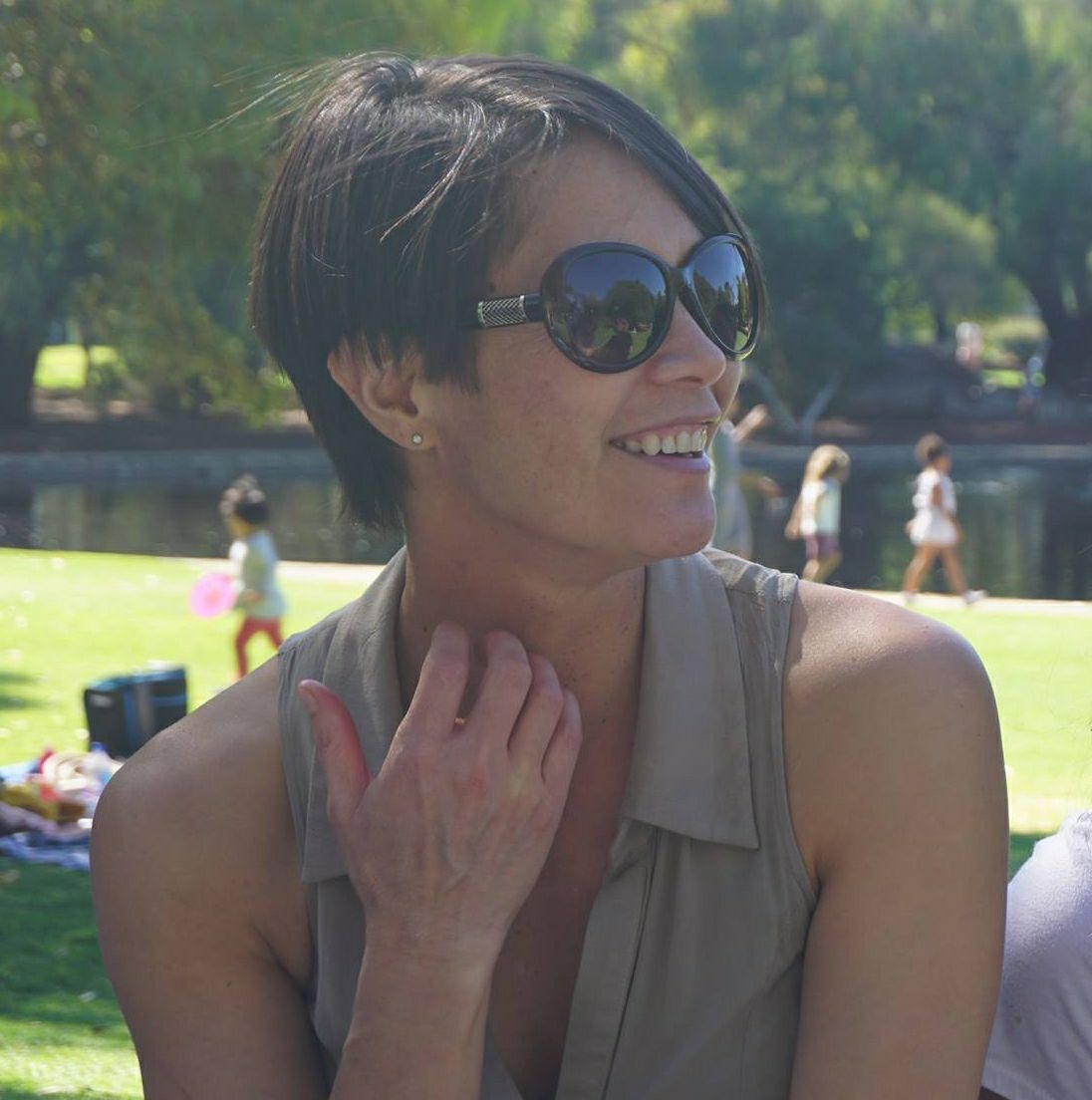 "Jack has been instrumental on this online amazon journey for me. From the very beginning he has answered all of my questions in a timely manner, has guided me through the hurdles I faced at different intervals along the way. My learning curve has been 0 to 100 sharply upwards. I have my product, and with Jack's unwavering support and my persistent action I know I'll be successful. I initially paid and then got refunded on a similar course that was x5 the cost of Jack's course and they didn't offer the personal mentorship that is offered on Jack's course. This is my product, my effort and my responsibility...Jack's there for guidance, support and at times the voice in my ear to never give up. It's not as easy as I had envisioned...nothing worthwhile ever is. "
- Prince, Student since July, 2018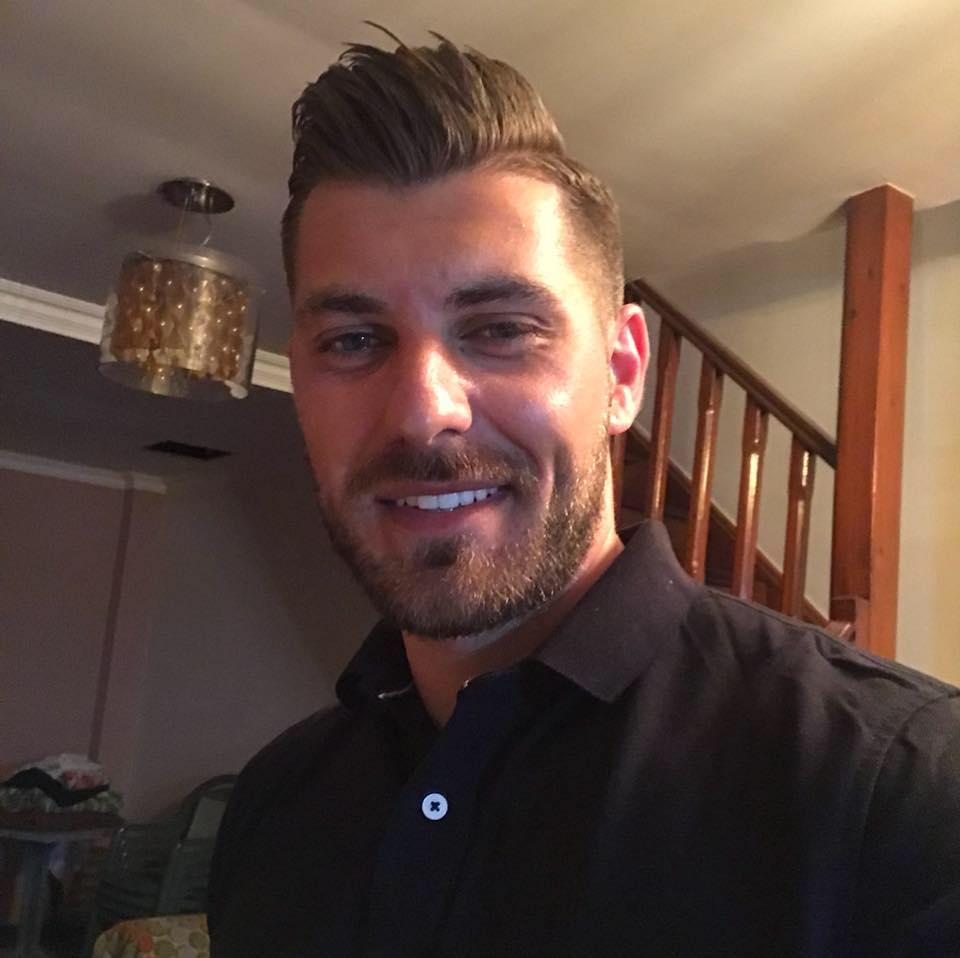 "Jack offers by far the best Amazon course on the market! I loved the step-by-step approach and the ongoing support even after the completion of the course."
- Sotiris, Student since Jan, 2019
TO CELEBRATE THE BLACK FRIDAY/CYBER MONDAY SALES...
GET IN ON ECOM EXCELLENCE'S CHEAPEST PRICE YET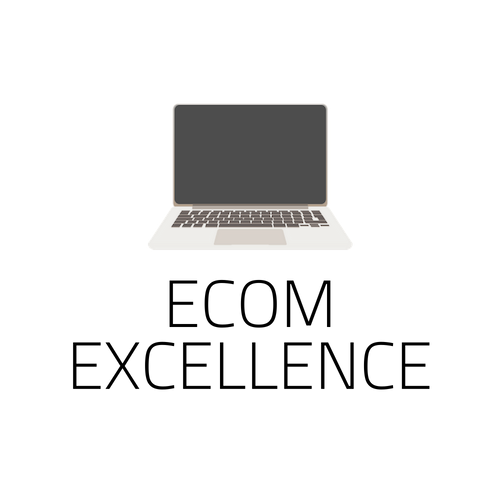 WITH 98% OF IT'S CONTENT NOW RE-FILMED AND UPDATED FOR 2020...

ECOM EXCELLENCE BRINGS TO YOU 70+ BRAND NEW VIDEOS - GEARING YOU UP WITH EVERYTHING YOU NEED TO GET STARTED


---

Why not do something different, and invest in yourself?


Amazon selling has been around for many years, and with more and more people jumping onto this ecommerce opportunity, that also brings more people with questions of uncertainty. The 3 main concerns I get from people daily are:

Is Amazon over-saturated?
Can I still make money selling on Amazon?
Is it even worth trying so sell on Amazon anymore?

The truth is, there has never been a better time to sell on Amazon than NOW.

That's right. Especially now coming into 2020, the opportunity to create a successful and profitable Amazon business is BETTER than what it was 5 years, or even 2 years ago.
INTRODUCING
ECOM EXCELLENCE
This is one of the most in-depth courses out there for Amazon Australia, giving you all the tools and layouts you need to grow a successful Amazon business.
What's different about Ecom Excellence?

Well as you might have known, Amazon launched in Australia in November 2017.

What does this mean for us? This means BIG OPPORTUNITY. We are in a GOLDEN ERA for ecommerce in Australia.

No more competing with huge brands and products with tens of thousands of reviews in the US.


This is why you need to be on board as early as possible:
1. Get into the Amazon market early.
2. Establish your brand and your products while the competition is low.

3. Watch your brand and sales grow alongside the Australian Amazon market!


So with that being said, here are a few questions you need to ask yourself before you enroll into the Ecom Excellence course:

- Do you want to make a good side hustle income that can potentially make you more than your current job?
- Do you want to start and grow your own online business from home?
- Do you want to learn alongside a community of 240+ Aussie students now in their Amazon selling journey?

This course will provide an easy to follow, in-depth look on how you can start selling on Amazon, even if...

- You have no experience selling online.
- You have no idea how online business works.
- You have never started a business before.
- You have no idea how Amazon FBA works.

The content of this course will range from how you can start preparing mentally, all the way to how you can scale your Amazon business and create vast exponential growth of your sales and income. Now the main point that needs to be made is that the Ecom Excellence course won't teach you any "get rich quick" schemes.

That's not how profitable growth on Amazon works.

What you will learn however is how to grow your Amazon into a long-term, legitimate business.

Sounds hard, right? Well it's actually quite simple. Even if you aren't a tech whiz or have a degree in business management, you have the ability to become successful in Amazon selling.

What this course is NOT. This course is not a guaranteed way to make money and is not for those who need their hand held OR are not willing to put in the time and effort to thoroughly study this course and create a profitable and scalable business.

UPDATES: Updates will be continuously added for FREE for existing students. Whenever there are new policies or strategies, you will be the first to know.


HEADS UP:
ECOM EXCELLENCE WILL APPLY FOR STUDENTS WANTING TO LEARN HOW TO SELL ON EITHER THE AUSTRALIA OR THE US MARKET!




PACKED WITH OVER 70 VIDEOS! In this course you will learn:

- How to find the best and most profitable products to sell for Amazon Australia & US.
- How to easily setup your Amazon business.
- How to setup your Amazon seller account.
- How to find the best suppliers and source the highest quality products.
- How to make a great logo for your brand.
- How to get your products sent straight to Amazon so you never have to see them!
- How to make a killer listing and rank your product to make it SELL.
- How to advertise through Amazon and Facebook to drives more sales for your product.
- How to scale your amazon business!

AND MUCH, MUCH MORE!
Since it's launch only 2 years ago, Ecom Excellence now has 380+ Australian students who are all on their way to creating their profitable Amazon FBA businesses.


These students are all selling at different levels, which include:

20k+ in sales...
3-5k/month in sales...
2-3k/month in sales...
1k+/month in sales...

All the way to the beginners who have just launched their product and are beginning the growth of their sales and Amazon business!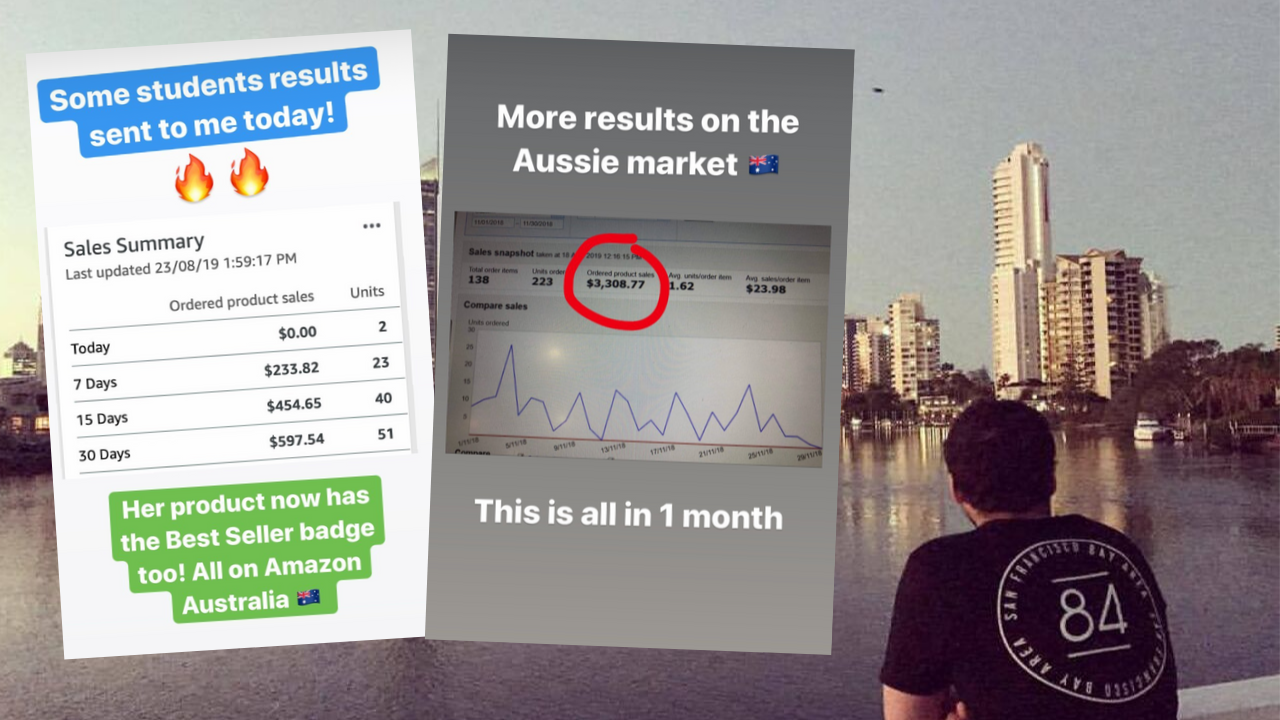 So how do you know if the course is any good?



Well, don't just take it from me. Check out my interview with one of my first successful students, Elbass.
So what are you waiting for? Take the first step and start building your dreams into reality. These students did it, and so can you.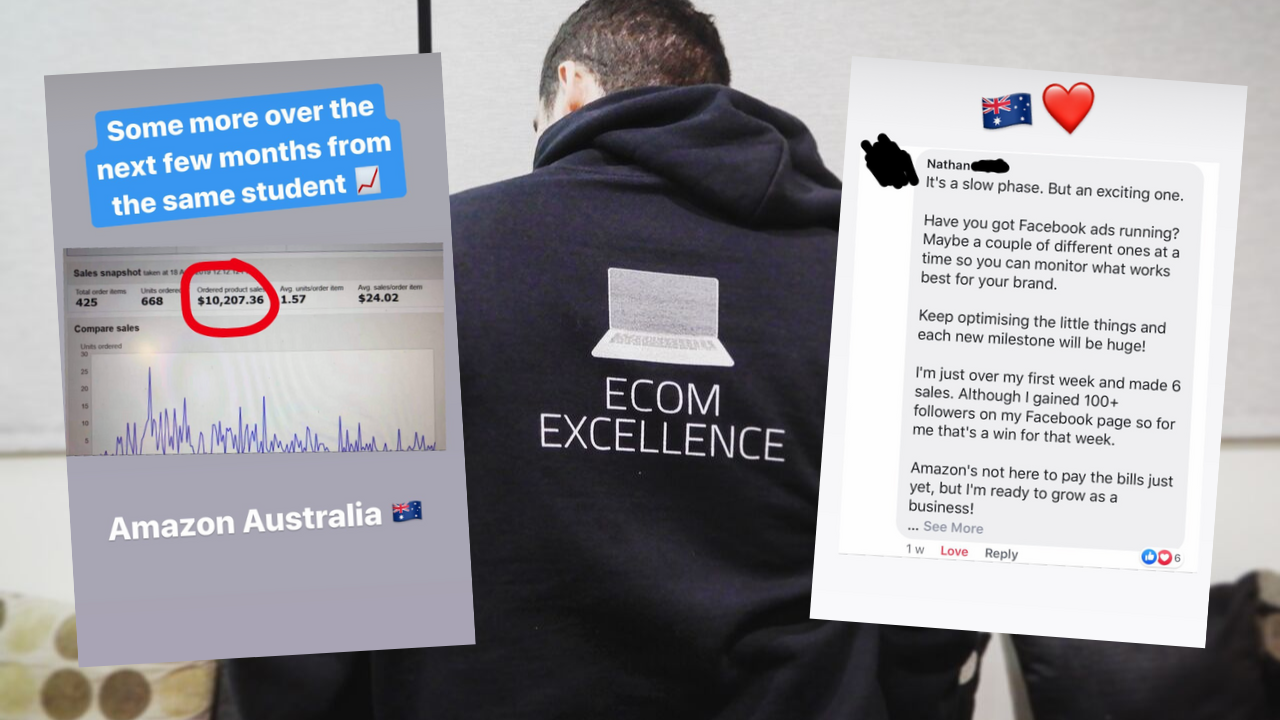 See you there,
Jack Parrotta





I want to make sure you LOVE THIS COURSE and get the MOST VALUE OUT OF IT. If not, I insist that you get 100% of your money back.
*Check refund policy below*

*NOTE* Refunds given only when requested by personal Facebook message, by a student who has purchased the course less than 14 days prior, and has viewed less than 30% of the course. Whether or not you click on the COMPLETE & CONTINUE button, makes no difference. The rule applies once you access 30% of the modules in the course, whether or not you view the videos. Absolutely NO exceptions!
Your Instructor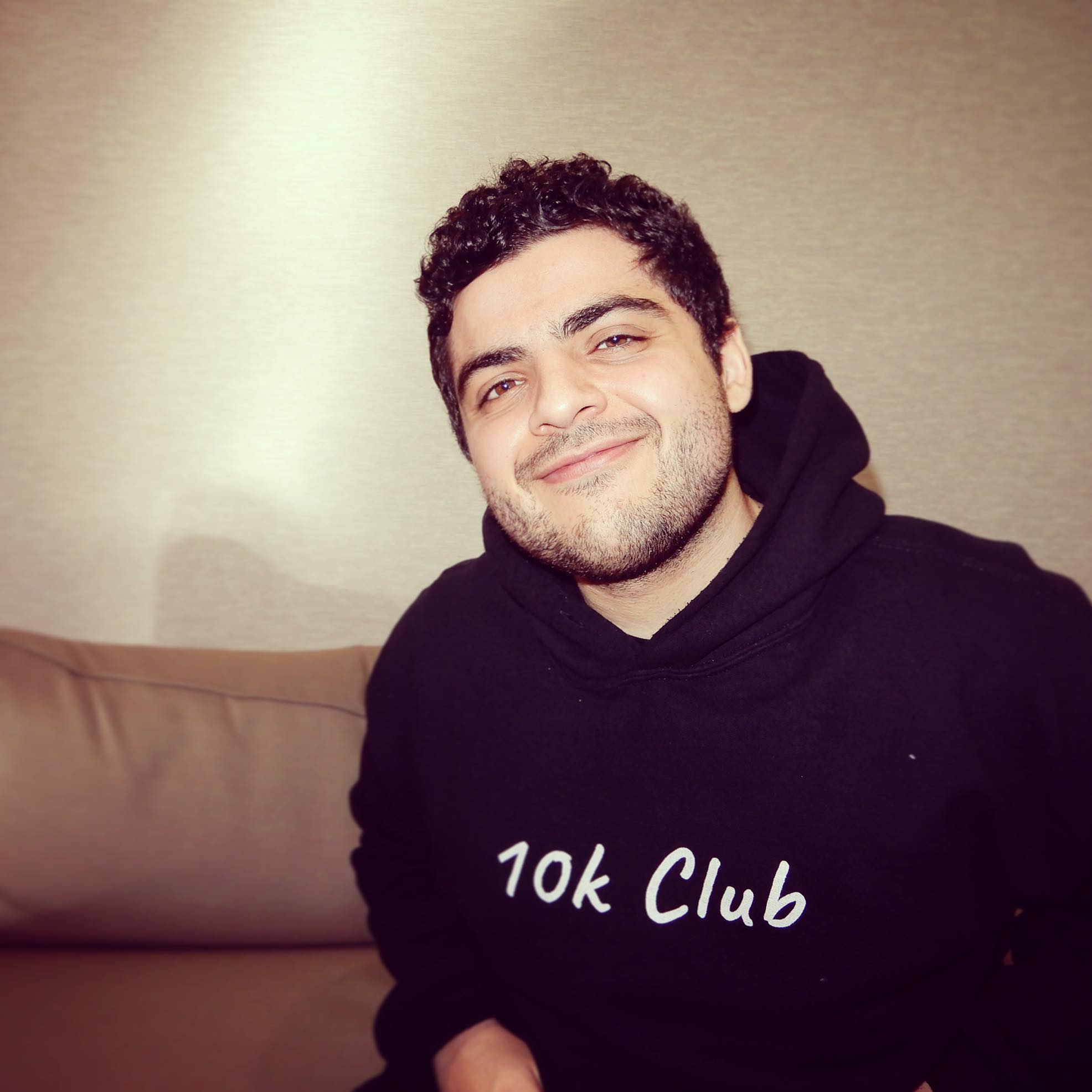 I am a 24-year-old Australian who has grown up with the ecommerce world and who loves anything to do with passive income and CREATING a great income online!

Noticing early how important it is to jump onto this huge online opportunity, I want to help as many people as I can in living the life of their dreams, and on their own terms.

I've been doing Amazon for around 2 and a half years now, and have noticed many trends and experienced many failures but also many wins! So I do have a thing or two under my belt! I have not only scaled my own Amazon business to make thousands in sales a month, but am now helping 240+ Aussie students to do the same both in the US and Australian markets!

I think the thing that sets me apart however, and is the most important is the care and support I give to every one of my students. No one is ever left in the dark on their journey towards building their online Amazon business.


Frequently Asked Questions
Do I Get Any Extra Support?
YES! You will get UNLIMITED mentoring and support from me through Facebook messenger or through the private Facebook group!
When does the course start and finish?
The course starts now and never ends! It is a completely self-paced online course - you decide when you start and when you finish.
How long do I have access to the course?
How does lifetime access sound? After enrolling, you have unlimited access to this course for as long as you are a student of the course - across any and all devices you own.
What if I am unhappy with the course?
I'd never want you to be unhappy! Please note, refunds given only when requested by email, by a student who has purchased the course less than 14 days prior, and has viewed less than 30% of the course. Whether or not you click on the COMPLETE & CONTINUE button, makes no difference. The rule applies once you access 30% of the modules in the course, whether or not you view the videos.